Pirastro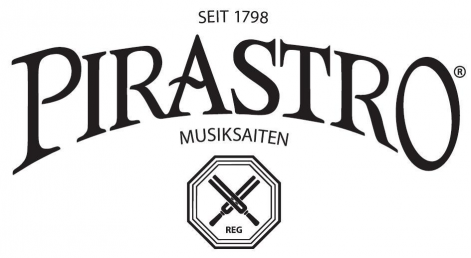 Pirastro - Handmade in Germany
| | |
| --- | --- |
| As a result of the quality of both their strings and rosin, Pirastro has become a byword for a sound which is both beautiful and reliable. As a result, a great number of classical string musicians recommend Pirastro strings; their tonal flexibility and expressive power allow each musician to create their own unique sound and to show their own instruments to their very best advantage. The tonal flexibility and the expressive power of each single | Pirastro string create an unsurpassed choice for the musician across the Pirastro range. Musicians can choose from the complete range of gut strings (e.g. Passione and Oliv), from synthetic strings (such as Evah Pirazzi or Tonica) or steel strings (e.g. Flexocor and Chromcor). Finally, Pirastro rosins are designed specifically for Pirastro strings and this combination is responsible, in no small part, for the excellent world-renowned Pirastro sound. |
History
From Italy to Germany
| | |
| --- | --- |
| Today's Pirastro GmbH was founded in 1798 by Giorgio Pirazzi as "Giorgio Pirazzi and Sons", string-maker from Italy, with representatives in Rome, Naples and Padua. Pirazzi was a Miller's son born in 1766 in Domodossola in Italy and was sent as a 14-year old to string makers in both Naples and Rome where he was to learn the craft of the manufacture of strings. On completing his apprenticeship, Pirazzi returned back to his home on the shores of Lake Maggiore. Here he met Italian families who had experienced good fortune by moving to Frankfurt and now were returning to their old homes for the holiday period. | These families invited Pirazzi to visit them in Frankfurt. Pirazzi accepted their offer and went even one step further, settling in Germany. Life was not easy for new arrivals in the city, however, as the Guilds were refusing to admit new craftsmen in order to protect the existing livelihoods of those in the City. Such measures suited one of the region's princes - the Count of Isenberg - who encouraged the rejected Italians to settle in his own wealthy county of Offenbach, just south of Frankfurt. Giorgio Pirazzi seized this opportunity and eventually received an invitation from a wealthy Offenbach landowner to found the factory on his land and thus pursue his craft. |
Pirazzi becomes Pirastro
| | |
| --- | --- |
| The business grew slowly and steadily and in the 1890s Gustav Pirazzi (the grandson of the founder) invited his friend, Theodor Strobel, to join him as a business partner. | The partners combined the first four letters of their names to create the PIRA-STRO brand which is still so well-known today. Strobel died in 1922 and Gustav's son Hermann took over the firm, leading it until his death in 1976. |
1970 until today
A growth in demand necessitated the need for a second production site in Germany in the early seventies.
Following this, in 1992 Eva Pirazzi, daughter of Hermann, and her husband, Volker Müller-Zierach, took on the leadership of the firm.
Today Eva and Volker work with their adult children Annette and Henning, both of whom joined the firm following the completion of their studies and experiences working in other companies across Europe. Henning and Annette are now the sixth generation of the family to lead the firm.
Il n'y a pas de produits sous cette catégorie